Welcome to the Ely U.M.C. website.

We are thankful that you have chosen to stop by for a little visit.

We would also like to invite you to take the time to stop by and visit with us for worship and/or fellowship at our church facilities which are located at 305 E. Camp St. Ely, MN.

Of course, if you have clicked into this section of our Website you are actually expecting to find a biography statement for our pastor, so here goes: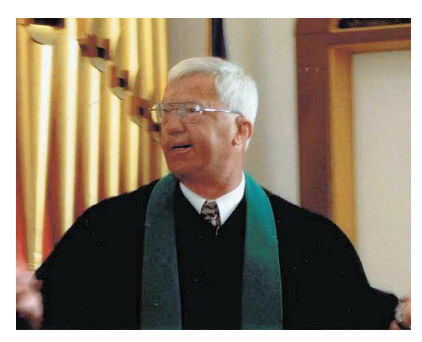 A brief introduction should begin by stating that I have been sharing in God's Ministry with the people of God here in the Ely U.M.C. for closing in on 31 years. So, you could say that I may be considered an "Old Dog" who is trying to learn a "New Trick", going against the grain, traveling up the hill, face into the wind, because what is it THEY say "you can't teach an old dog new tricks"!
Well, here we are putting together a short little biography for Dana Thompson the pastor of the Ely U.M.C., the "Little Church with a Big Heart". Now, I am doing this for the Ely U.M.C. Website, which leads me to think "Old Dog" and "New Tricks"!
I grew up in the suburbs of Minneapolis, Richfield to be specific. Following graduation from high school I spent eight years getting a college degree while also spending a fair amount of time in the work force as a painter (house). I graduated from the University of Minnesota with a "Bachelor of Science" degree in teaching in 1979.
Following graduation from college my dad was in need of a new partner in his painting business so I joined him. I had already worked many years in the painting business while slowly working my way through college. We were partners for over four years.
I had sensed God's call into Ordained Ministry after completing high school but got side tracked by a variety of things. So, after four plus years in the painting business with my dad following college a change would occur. I enjoyed being in the painting business, but I knew painting was not going to be my life long career. Finally, I was ready in heart, mind, and spirit, to respond to God's call and off to Southern Methodist University, Perkins School of Theology, in Dallas, Texas for a Masters of Divinity. I graduated in 1987 and off to Ely, Minnesota. Indeed, God's blessing filled with joy!
It took one of the Ely U.M.C. Family Members a couple of years to convince me, but I finally consented to a daylong walleye fishing trip by canoe into the "Boundary Waters Canoe Area". I took that first trip in honor of my dad; I now find those daylong walleye fishing trips by canoe into the "Boundary Waters Canoe Area" to be a wonderful summertime get away day which also has the benefit of providing some delicious dinners as well! This would be my second passion!
Again, please come join with us here in the Ely U.M.C. for worship and fellowship, we look forward to seeing you!

Love in Christ, Pastor Dana